How Does Fatigue Affect Truck Accidents?
Posted on Wednesday, June 1st, 2022 at 9:52 pm
An accident with a commercial truck can have deadly consequences. According to the Large Truck Crash Causation Study, 13 percent of commercial truck drivers were fatigued at the time of their crash. This involved 18,000 trucks and raised the relative risk of a crash to eight percent.
Driver fatigue can also contribute to other factors in a motor vehicle accident, including making illegal maneuvers, reduced attention on the road, and following too closely behind another vehicle. The report found these factors also contributed to commercial truck accidents to a significant degree, with a combined relative risk increase of 66.1 percent. If you have pressing questions about your case, don't hesitate to contact us today.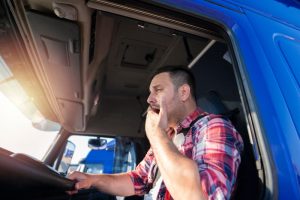 Causes of Trucker Fatigue
Truck drivers may regularly work long shifts, have an inadequate amount of sleep, and may be more likely to drive when they're tired. According to the Federal Motor Carrier Safety Administration, truck drivers are mandated to take time off and take breaks during their workdays.
The limits are different for truck drivers carrying property versus those carrying passengers. Truck drivers carrying property must limit the maximum number of hours they drive to 11 hours after having ten consecutive hours off duty. They are required to take a 30-minute break after driving eight continuous hours.
Commercial truckers driving passengers can drive a maximum of ten hours after having eight consecutive hours off duty. A lack of sleep is common among truck drivers. According to a study in the New England Journal of Medicine, truck drivers average 5.18 hours in bed per day and 4.78 hours of verified sleep each day over a 5-day study. If you have pressing questions about your case, don't hesitate to reach out to our legal team today.
A lack of sleep is an obvious reason for truck drivers to become fatigued. However, other elements that can affect a driver's drowsiness include:
Illness
Medication
Inebriation
Boredom
Working unusual hours
Poor oxygen supply in the truck
Untreated sleep disorder
Early Parkinson's Disease
Cardiovascular disease
Driving during naturally "drowsy" hours
According to a survey reported by the Centers for Disease Control and Prevention, four percent of adults reported they had fallen asleep behind the wheel at least once in the last 30 days. The sheer number of drivers falling asleep behind the wheel is staggering. Contact us today.
Fatigue Has a Significant Impact on Driver Ability
Falling asleep is an obvious concern for truckers who are driving fatigued. However, there are other ways in which sleep deprivation and fatigue can impact a driver. According to the Centers for Disease Control and Prevention, you cannot anticipate when sleep will overcome your body.
Although this is dangerous, being sleepy creates other risks. Drivers are less likely to pay attention to the road and will miss early signs of danger ahead. Being drowsy also slows your reaction time and affects your ability to make good decisions.
Studies have demonstrated how going without sleep impairs your ability in the same way as driving and drinking too much alcohol. Being awake for 18 hours creates the same poor reactions as someone with a blood alcohol content of 0.05 percent.
Once you're awake for 24 hours, your reactions are like someone who has a blood alcohol content of 0.10 percent. In all states, the legal limit for driving is a blood alcohol content of 0.08 percent. Additionally, when you're drowsy, even low amounts of alcohol can dramatically increase the effect on your coordination, judgment, and reaction time even further.
According to the National Highway Traffic Safety Administration, there are three factors that are associated with drowsy driving crashes. More frequently, they happen between midnight and 6:00 a.m., when most people are in bed and asleep. They also often involve a single driver running off the road and frequently occur on rural roads and highways.
This means fatigued commercial truck drivers will have a difficult time focusing on the task at hand, which may cause them to drift into another lane or fail to notice changing traffic signals. Poor judgment calls can ultimately place another person's life in danger. Contact us today.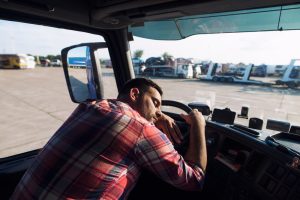 Contact The Law Offices of Briggs & Briggs Today
If you were injured in an accident with a commercial truck that was not your fault, you want an experienced and compassionate Lakewood truck accident attorney at your side. Traffic accidents with a commercial truck are not as straightforward as those with another passenger vehicle.
Often, there is more than one insurance company involved, and there may be more than one entity at fault. Although the truck driver may have been drowsy, which triggered the accident, a shifting cargo load, poor maintenance on the truck, or poor training of the truck driver may all increase the risk of a dangerous or deadly accident.
The legal team at The Law Offices of Briggs & Briggs wants you to know that you are not alone. You do not have to take on large trucking companies and negotiate with insurance companies by yourself.
We believe you should spend your time recovering after an accident and leave the negotiation and litigation to us. Call our office today at (253) 588-6696, or contact us online to speak with an experienced truck driving accident attorney who can review the details of your case and answer your questions.