The Law Offices of Briggs & Briggs, Handling Personal Injury Cases Since 1952
The experienced injury attorneys at The Law Offices of Briggs & Briggs take immense pride in helping people build a stronger and safer community. Part of building that stronger and safer community comes from protecting those that have been wronged and seeking justice for negligence. For years, our focus has been to help victims achieve this justice through the legal system and to hold negligent individuals and companies accountable for their wrongful actions. Everyone deserves for their voice to be heard and to have the opportunity to pursue justice. It's the bedrock that we built this firm on and it still holds steady to this day.
If you or a loved one has been involved in any type of accident that has resulted in a serious injury, you may be able to recover compensation. This compensation can help cover medical expenses, time missed from work, property damage, and pain and suffering. You have rights before they are stripped away, contact an experienced personal injury attorney with The Law Offices of Briggs & Briggs. We can review the circumstances of your situation and discuss your legal rights and options. Keep your money, we don't ask for anything upfront, just call (253) 588-6696 and let's talk about the ways we can help you. You are never alone when you have The Law Offices of Briggs & Briggs on your side.
What is a Personal Injury Claim?
When someone is injured due to the reckless or negligent actions of another individual, the victim may have the ability to pursue a personal injury case. The most common types of personal injury cases tend to be car and truck accidents. However, there are a variety of incidents that can rise to the level of requiring a personal injury lawsuit for resolution.
Dog bite cases, construction accidents, slip and fall accidents, there are all situations that may warrant legal intervention. This legal intervention holds the negligent party accountable for their actions and it also strives to recuperate compensation for the injured victim. Victims of accidents often encounter financial setbacks because of the high cost of medical care and the income they miss from being out of work while they recover. Is it fair that they should incur these costs when someone else was responsible for injuring them in the first place? At The Law Offices of Briggs & Briggs, we don't think so.
Want to know if you have a personal injury case? Just contact the legal team at The Law Offices of Briggs & Briggs. We can review your individual situation and advise you of your legal rights. If you have a case, we can help you navigate the legal system and seek compensation for your injuries. Our experienced team advises you on the options that offer you the best chance at a positive outcome, then we aggressively pursue justice on your behalf.
Auto Accidents
Vehicle accidents are an unfortunate event that occurs on our highways and roads. No wants to be in a car wreck, but if you are, the first step is to notify your insurance or the insurance of the at-fault driver. Your next step is to hire a car accident lawyer. Immediately seek out medical attention and follow their advice. Many times, symptoms from injuries do not begin to display for days or even weeks after the accident.
When you are in an accident, never give a statement to the insurance company without consulting an auto accident attorney first. This is because they ask certain questions in a specific way hoping you, the non-fault party will inadvertently admit full or partial liability for the accident. This can and will make a significant difference in your ability to recover any money for your case. When you hire a personal injury attorney, the attorney will handle with the insurance company on your behalf.
Truck Accidents and Wrongful Death
Our highways are full of large trucks. Unfortunately, there is no small 18-wheeler accident. If you are involved in an 18-wheeler accident, then consult a truck accident attorney. A wrongful death lawyer can assist those who have lost a loved one to a traffic accident.
The Law Offices of Briggs & Briggs are committed to representing those injured and their families in Lakewood, WA; Bremerton, WA; Chehalis, WA; Olympia, WA; Tacoma, WA; and Puyallup, WA. Contact us today to find out how we can help.
Personal Injury Lawsuits are Designed to Protect You
Many people, understandably, have apprehensions about pursuing a personal injury lawsuit. The most common fears are that it is too expensive, or the legal process is too complicated. However, personal injury lawsuits are designed to protect you, the victim. After a serious accident, you will likely end up with medical bills, lost income, emotional distress, sometimes even the cost of property damage. Your life can be upended and even finding the money to pay everyday bills becomes a challenge. Your financial stability has been shaken and there is no telling if or when things will ever get "back to normal."
Personal injury lawsuits are a legal recourse for victims to pursue the compensation they deserve for their injuries and the costs associated with those injuries. When someone else causes a serious accident, it should become their responsibility to make the situation right again. Without the help of an experienced personal injury lawyer, an induvial may be able to get away with injuring you and laying the financial responsibility for those injuries at your feet.
As for the argument that hiring a personal injury lawyer is going to be too expensive, the cost of not hiring a lawyer may be even higher. Those that turn to a personal injury lawyer for help after an accident tend to recover more in the way of financial compensation than those who try to recover compensation on their own. Not only that but at The Law Offices of Briggs & Briggs we don't ask for any money upfront. The initial consultation to discuss the merits of your case is free. After that, we work a contingency-fee-basis. That means we don't get paid unless you recover compensation for your case. Still, think the process is too complicated? Let us do the heavy lifting. We take on the burden of investigating your case and can guide you through the entire legal process from start to finish.
100% Free Consultations
No Money Upfront
No Recovery, No Fee
60+ Years Experience
Outstanding service
Shawn Briggs has handled cases for both me and my wife with outstanding results and satisfaction. Both he and his staff are very friendly and approachable. They take good care of they're clients. Highly recommended.
Posted by Christopher Scime on AVVO
February 19, 2015
Verdicts, Awards, and Settlements
At The Law Offices of Briggs & Briggs, we won't rest until we get you the maximum amount of compensation for your injury claim. We won't settle for anything less than what you deserve. Our track record of successful verdicts and settlements include victories like:
Negligent Police
Chase Auto
Accident
Wrongful Death
Truck Accident
Case
Motorcycle
Accident Due to
Highway Defect
Construction Site
Wall Collapse
Injury
Proven Results for Our Clients
Our legal team has the experience and dedication to handle any number of different personal injury claims. Don't want to take our word for it? Our results speak for themselves. With over 60 years of legal experience, we have been diligently working to earn our clients the money they deserve after a personal injury incident. From car accidents to slip and fall cases, our priority is to maximize compensation for our clients no matter the situation. We have brought in millions for victims injured by the negligent actions of others. That's money they desperately need to cover their medical bills, lost income, and emotional pain and suffering.
Interested in talking to someone about what your personal injury case could be worth? Contact the seasoned team at The Law Offices of Briggs & Briggs to schedule a free consultation. We can review the circumstances of your situation and talk about the ways we may be able to help you recover the full and fair compensation you are entitled to. Don't let someone else's negligence ruin your health and financial future. Contact The Law Offices of Briggs & Briggs today.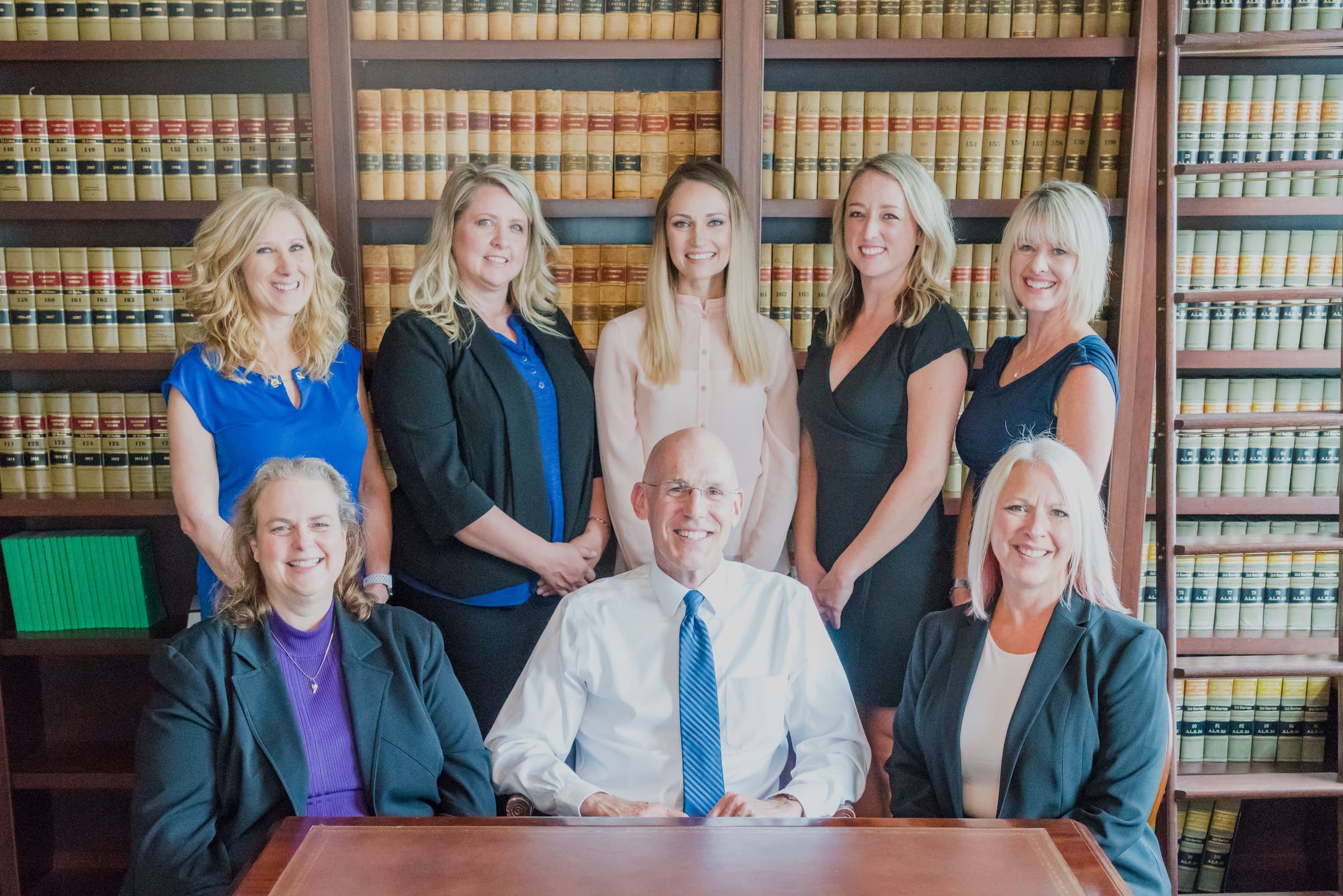 About Personal Injury Cases
When a catastrophic accident derails your life or impacts the life of someone close to you, you need someone to stand up for you and your rights. The team at The Law Offices of Briggs & Briggs has built a reputation for standing up for injured people in Lakewood and across Washington for more than seven decades. Our aggressive trial attorneys will work around-the-clock to make sure that the party who caused you is held accountable for their actions, and we will make sure that they pay you for the harm you've suffered.
Don't trust your case to a firm that lacks the experience and resources to get you the results you deserve. When everything is on the line, you need a firm that you can trust to secure you a settlement or verdict that makes things right. Choose a firm that has the right experience, the right resources, and a proven track record of success to fight for you and your family.
Washington State Accident Statistics
According to the Washington Traffic Safety Commission, there were 526 fatal crashes in 2020, and 2,080 suspected serious injury crashes. There were also 8,146 suspected minor injury crashes. In 2020, there were a total of 86,269 traffic crashes in Washington State.
The Washington Safety Commission also reported 90 fatal motorcycle crashes in 2020 and 386 suspected serious injury crashes in the state of Washington in 2020. Motorcycles were also involved in 515 suspected minor injury crashes. Overall, there were 1,658 crashes involving motorcycles in 2020.
Traffic fatalities in 2020 in
the state of Washington
A crash occurred every 6 minutes in
2020 in the state of Washington.
A person died in a crash every 16 hours in 2020
in the state of Washington.
The state of Washington also had 105 pedestrian fatalities and 306 suspected serious injuries among pedestrians in 2020. Pedestrians also suffered 657 suspected minor injuries in 2020, along with 486 possible injuries. In total, pedestrians sustained 1,631 injuries due to traffic-related accidents in 2020.
There were 13 bicyclist fatalities in Washington in 2020, as well as 104 suspected serious injuries among bicyclists. Bicyclists also sustained 418 suspected minor injuries in bicycle crashes that same year, as well as 279 possible injuries. In total, 862 bicyclists and passengers suffered injuries in bicycle crashes in 2020.
According to the Washington Traffic Safety Commission's data, the number of pedestrian and bicyclist injuries and fatalities has been on the rise over the last decade. Pedestrians and bicyclists accounted for 18.6 percent of all traffic fatalities in Washington State between 2013 and 2017, as well as 22.5 percent of all serious injuries sustained in traffic-related accidents. From 2011 to 2015, there were 412 pedestrians and bicyclists killed in traffic accidents. The number of casualties rose to 474 from 2013 to 2017. The number of injuries among pedestrians and bicyclists also increased over the two time periods, from 1,992 (2011-2015) to 2,351 (2013-2017).
The Washington State Traffic Commission also reported 42 fatal crashes involving heavy trucks in 2020, as well as 102 suspected serious injury crashes involving heavy trucks. In addition, the Commission reported 405 suspected minor injury truck crashes, and 675 possible injury truck crashes. In total, there were 5, 053 crashes involving large trucks in Washington in 2020.
Data shows that about 1,000 U.S. citizens need emergency medical care for serious dog-bite injuries each year. About 14,025 individuals across the country are hospitalized for dog-bite injuries each year. From 2005 to 2017, dogs killed at least 433 people in the United States. Pit bulls were involved in the overwhelming majority of these cases, causing 284 fatal accidents, or just over 65% of all fatal dog attack incidents. Rottweilers, who caused the second-highest number of dog attack fatalities, with that breed accounting for approximately 10 percent of all dog attack-related deaths.
According to the Insurance Information Institute and State Farm, homeowners insurance companies paid over $854 million in dog-related liability claims in 2020. According to the Plastic Surgery Statistics Report by the American Society of Plastic Surgeons, 47,454 people underwent reconstructive procedures related to dog bite repair in 2020.
According to the 2019 Washington State Work-Related Fatalities Report, the construction, transportation/warehousing, and agriculture/forestry/fishing/hunting industries had the highest rates of workplace fatalities in 2019. In total, 63 workers died in 2019, down from 77 in 2018. 52 of those workplace fatalities were men, while 11 were women. Of all workers who sustained fatal injuries in the workplace, 44 percent were older than 50.
Choose The Law Offices of Briggs & Briggs
Our consultations are always free and 100% confidential. We want to hear your story, and we want to fight for you. When you work with us, you won't have to worry about the cost of pursuing justice. We work on a contingency-fee basis, which means that if we don't win your case, you won't owe us a thing. That's how it should be. You know that when you work with us, we will do everything in our power to get you what you are owed.
Don't wait. Contact The Law Offices of Briggs & Briggs now by calling (253) 588-6696
Frequently Asked Questions About Accidents in Washington
Most people who are considering filing a personal injury claim have never filed a lawsuit before, so they have many pressing questions about the process. Some of the questions we hear most frequently in our office are below.
How long do I have to file a personal injury claim in Washington?
Under Revised Code of Washington § 4.16.080, any action for injury to a person must begin within three years of the date of an accident. Certain exceptions may exist to this statute of limitations in some cases, but a person generally should not delay in seeking legal representation. It is important to remember that an attorney will need time to investigate your accident and obtain important evidence before they can begin negotiating a possible settlement.
Does it matter if I was somewhat at fault for my injuries?
Revised Code of Washington § 4.22.005 establishes that your compensation award will be reduced by the percentage you are found to be at fault, regardless of how high that percentage is. This means that if you were awarded $100,000 in compensatory damages for your injury claim but were found to be 50 percent at fault, your damages would be reduced by $50,000 and you would ultimately receive $50,000. Unlike many other states that prohibit recovery when a claimant is 50 percent or more at fault, Washington is one of only a dozen states that uses a pure comparative fault system that allows victims to recover damages—even if they were primarily at fault.
What kind of damages might I be entitled to?
Most accident cases are resolved through settlements, as insurance companies are reluctant to bear the costs of going to trial as well as the possible judgments that may result. When a victim proves their case by a preponderance of the evidence, they could be entitled to compensatory damages, which are usually a combination of economic damages and noneconomic damages. Economic damages refer to tangible losses a victim has incurred or will incur, such as medical bills, lost wages, and property damage. Noneconomic damages are much more subjective and typically cannot be quantified, including awards such as pain and suffering, loss of consortium, and disfigurement. Washington Pattern Instructions (WPI) § 348.02 states that a jury can also award punitive damages. Punitive damages are not intended to compensate a plaintiff but rather to punish a defendant and discourage similar acts in the future. The plaintiff has the burden of proving that punitive damages should be awarded because the defendant's conduct either was motivated by evil motive or intent or involved reckless or callous indifference to the rights of others.