Lakewood Whiplash Injury Lawyers
If you suffered a whiplash injury after a car accident that was due to someone else's negligent behavior, you could be entitled to compensation. The Lakewood car accident attorneys of The Law Offices of Briggs & Briggs can represent your interests and fight to protect your rights.
Even if a whiplash injury is minor, you should take it seriously. It does not take a lot of force to cause whiplash, and the older you get, the higher the likelihood there is damage. While a whiplash injury can be common, it can also cause significant medical expenses and can affect your ability to work.
The sudden physical damage and pain can be challenging to deal with daily. Our legal team can help safeguard your future. We believe that you should spend your time recovering from your injuries and leave the negotiations with the insurance company or litigation in court to us.
We recognize the financial burden that can come after an accident. We want you to have experienced representation, so there are no upfront charges, and you only pay us if you get paid. Call our office today at (253) 588-6696, or reach out to us online to schedule your free consultation and case review. You're never alone when you have The Law Offices of Briggs & Briggs on your side.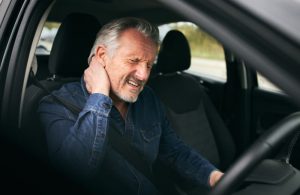 What Is Whiplash?
Whiplash is an injury to the neck. It's also sometimes called a neck strain or sprain. It happens when the head is suddenly snapped forward and then backward in a whip-like motion. This overstretches the joints, ligaments, and muscles in the neck and upper back. This can happen when a car suddenly accelerates or decelerates, such as during a car accident.
Whiplash injuries are more common in rear-end collisions. According to the National Highway Traffic Safety Administration, rear-end accidents accounted for 7.1 percent of fatalities, 31.1 percent of injuries, and 33.2 percent of property damage-only accidents. In total, rear-end accidents were responsible for 32.5 percent of all traffic accidents in 2019.
Although fairly common, a whiplash injury is not well understood. The neck is a physiologically complex area of the body where nerves, muscles, bone, discs, tendons, and ligaments are located to help to support your neck and make it functional.
Whiplash can cause minor or severe symptoms, depending on the types of tissues that were injured in the accident and how badly they were damaged. You may not experience symptoms immediately, depending on the type of tissue affected and how seriously you were hurt. Symptoms of whiplash can include:
Pain and stiffness in the neck, back, and shoulders
Low back pain
Difficulty turning your head
Muscle spasms in the neck and shoulders
Chronic headache
Fatigue
Pain in the arm or hand
Numbness in the hand or arm
Tinnitus or ringing in the ears
Blurred vision
Whiplash can also affect how the brain works and how you process information or emotions. You may also have symptoms that include:
Anxiety
Memory loss
Difficulty focusing
Insomnia
Sudden mood changes without knowing why
Your healthcare provider will diagnose whiplash through a physical examination and a history of the accident and injury. Depending on the severity of your injury, they may also order imaging tests, such as an MRI or CT scan, to evaluate the damage to the soft tissues. If you have pressing questions about your case, don't hesitate to contact us today.
Treatment for Whiplash
It is critical that you see a medical provider immediately after the accident for diagnosis and treatment of any injuries. Your medical records are crucial to negotiating with the insurance company or litigating your case in court. They prove your physical injury and demonstrate to the court your interest in maintaining your health.
After your healthcare provider has diagnosed whiplash, they can recommend specific treatments that are dependent on your age, overall health, and medical history. Your physician will also consider your expectations for treatment, the extent and severity of the injury, and your tolerance for specific procedures or therapies.
In the past, doctors may have recommended using a cervical collar to prevent movement while the area healed. However, research has shown that resting for more than a couple of days can cause the muscles to get stiff and weak. This actually prolongs the pain.
Instead, your physician will prescribe physical therapy and possibly osteopathic manipulation to help the muscles, tendons, and ligaments return to normal function. Physical therapy can help recondition the muscles as they heal.
Your doctor may also prescribe applying ice or heat to the site for the first 24 hours and over the counter or prescription medications to help reduce pain and swelling.
These treatments support your body's healing process. In many cases, the pain from whiplash will start to fade within a month. However, in some cases, you can develop further symptoms that require evaluation and treatment by your physician.
Some people can experience lingering pain for months or even years. An older individual with a history of neck or back injuries may find it more difficult to recover.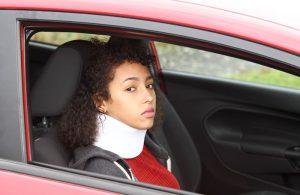 Should I Settle My Claim Quickly?
After an accident that was not your fault, the at-fault party's insurance adjuster may visit you. Their goal is to get enough information to disprove your claim and protect their company's financial interest.
The insurance adjuster may also offer you a quick settlement. Be aware that the first settlement offer is often not a fair one. You should work with a car accident attorney to establish the value of your claim. This allows you to strike a balance between accepting less than you could receive for your injury, having money to pay your bills, and making up for lost wages.
Available Types of Compensation
After an accident that was not your fault, you may be entitled to economic and non-economic damages. Economic damages are compensation for tangible costs for which you have a receipt. This can include lost wages, out-of-pocket expenses related to the injury, and medical expenses. Non-economic damages are compensation for the intangible costs of the accident for which the court may award you compensation. This can include pain and suffering, loss of consortium, or loss of enjoyment of life.
There Is a Limited Time to File a Claim
In Washington state, the law allows three years for you to file a personal injury lawsuit if you were injured during an accident. This three-year statute of limitations may seem like enough time to prepare your case. However, you are also recovering from injuries, which often leaves you a limited amount of time to gather evidence to support your case. The attorneys at The Law Offices of Briggs & Briggs will begin working immediately on your claim, gathering evidence to support what happened, and negotiating with the insurance company.
Call The Law Offices of Briggs & Briggs Today for Help
If you were injured in a car accident that was not your fault, call the attorneys at The Law Offices of Briggs & Briggs today. We can fight to protect your rights and for fair compensation for your injuries. This may mean negotiations with the insurance company or litigating your case in court.
Call our office today at (253) 588-6696, or contact us online to schedule your confidential consultation and case evaluation.