Lakewood Car Accident Attorneys for Head, Neck, and Spine Injuries
If you suffered a spine, head, or neck injury in a car crash due to someone else's negligence, contact The Law Offices of Briggs & Briggs immediately. You might be entitled to compensation for your hospitalization, physical therapy, and other medical bills and incurred expenses.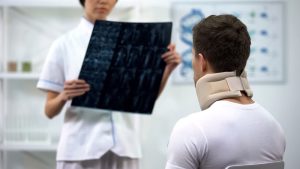 An injury to the neck, spine, or head can be painful and cause debilitating symptoms. Since these types of injuries can affect multiple nerves, tissue, and other body parts, complications can arise. Some people lose range of motion or mobility. Others feel chronic pain that significantly reduces their quality of life.
Head, neck, and spine injuries often result from car accidents. Even if the injury is mild, it can interfere with a person's routine. You might be unable to do your job, care for your family or yourself, and complete everyday tasks. The consequences can be far-reaching and lead to overwhelming stress.
At The Law Offices of Briggs & Briggs, we understand that the aftermath of a car accident is scary. Getting hurt in an accident that isn't your fault is devastating. You need to suddenly put your life on hold to attend doctor's appointments so you can get your schedule back on track. Our legal team is ready to help you fight for the justice and compensation you deserve.
Call the Lakewood car accident lawyers of The Law Offices of Briggs & Briggs at (253) 588-6696 today for your free consultation and learn more about what we can do for you.
Common Types of Head, Neck, and Spine Injuries from Car Accidents
Collisions involving motor vehicles can cause severe injuries to the occupants. Among the most traumatic are injuries to the neck, head, and spine.
Head
The most common types of head injuries from car crashes include:
Brain hemorrhage – Hemorrhaging is uncontrollable bleeding. When the bleeding occurs within the brain tissue, it is an intracerebral hemorrhage. A subarachnoid hemorrhage is bleeding that happens in the space around the brain.
Edema – Trauma to the head can cause edema, which is swelling of the brain. The skull can't accommodate the swelling and experiences extra pressure from the brain pressing against it.
Skull fracture – The skull can't absorb the impact of an external force. The trauma could fracture the skull and damage the brain.
Intracranial hematoma – A hematoma is the collecting or pooling of blood outside a blood vessel. Blood can collect within the skull and cause pressure when it happens in the brain. It could result in permanent brain damage.
Contusion – A brain contusion is a bruise. It results from the surface of the brain impacting the inner surface of the skull because of an external force.
The most common symptoms of a head injury depend on the injury's type and severity but could include:
Nausea
Headache
Spinning sensation
Temporary ringing in the ears
Mild confusion
Lightheadedness
Spine
The spine is the central support structure of a person's body. It consists of discs, the spinal cord, vertebrae, and nerves, which all serve different functions. Damage to any part of the spine can eliminate or reduce someone's ability to twist, sit, walk, stand, and perform other movements.
The most common types of spine injuries include:
Fractured vertebrae
Herniated disc
Spinal cord injury
Bulging disc
Dislocated vertebrae
Compression fracture
The type of injury and location of the damage determines the type of symptoms you might experience, such as:
Numbness, weakness, or tingling in the legs and back
Decreased or loss of sensation
Back stiffness or pain
Worsening pain while moving the back
Impaired sensory function
Neck
Car accidents can also cause severe neck injuries. When a person's head shakes violently during a collision, the movement can damage the ligaments, vertebrae, muscles, or other parts of the neck.
Common neck injuries include:
Sprain or strain
Pulled muscle
Herniated disc
Nerve damage
Vertebral disc damage
Torn ligament
Fractured vertebrae
A neck injury can lead to symptoms such as:
Headaches
Increased pain while moving the neck
Dizziness
Tingling or numbness in the legs or arms
Muscle tightness and spasms
Decreased range of motion
You should go to the hospital immediately after a car accident for a medical examination. Your doctor can evaluate your condition and determine the type of injury you sustained. Starting an appropriate treatment plan could manage or alleviate your symptoms and prevent complications.
Common Causes of Car Accidents
Multiple factors could contribute to car accidents, including driver error. Drivers often make mistakes at the wheel that endanger the safety and lives of others.
The most common causes of car accidents include:
Failing to yield the right of way
Speeding
Fatigued driving
Distracted driving
Tailgating
Unsafe lane changes
Driving under the influence
If you suffered a spine, head, or neck injury in a car crash for any reason, you should reach out to The Law Offices of Briggs & Briggs. We can review the circumstances and determine whether you have a case to pursue.
Compensation Available for Neck, Spine, and Head Injuries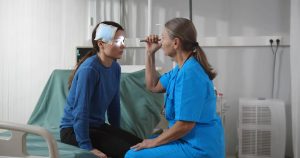 In Washington, a person who is injured in an accident caused by someone else can hold the negligent motorist liable for lost wages, medical care, and other expenses. When you file a claim with the at-fault driver's liability insurance company, you might receive a settlement to compensate you for your accident-related losses, such as:
Pain and suffering
Mental anguish
Lost wages
Lost earning capacity
Medical bills
Disability or disfigurement
Property damage
You also have the option to file a lawsuit if the insurance carrier provides a low settlement offer or denies your claim altogether.
Statute of Limitations in Car Accident Cases
In Washington, the statute of limitations allows a three-year timeframe to file a lawsuit. That means you must initiate your lawsuit against the negligent motorist within three years from the date of the accident that caused your head, spine, or neck injury.
Contact Us
Since 1952, The Law Offices of Briggs & Briggs has represented injured clients in Lakewood, WA. We understand the challenges you face while healing a serious injury and pursuing compensation for your losses. You can depend on us to provide the legal services you need and stay by your side until the end.
If you sustained a neck, head, or spine injury in a car accident someone else's negligence caused, call The Law Offices of Briggs & Briggs at (253) 588-6696 for your free consultation today.